What Potions Have I Drunk of Siren Tears



Curator: André Chan
Artist: Cheuk Wingnam, Alex Yiu
Organiser: Contemporary Musiking Hong Kong
Co-organizer: A+ Contemporary
Duration: Sep. 18-Oct. 16, 2016
Venue: A+ Contemporary|Room 106, Bldg. 7, 50 Moganshan Road, Shanghai, China

Sponsor: Hong Kong Arts Development Council




A+Contemporary is pleased to announce the upcoming partnership with non-profit organization "Contemporary Musking Hong Kong" in September, where a sound art exchange exhibition curated and organized by Contemporary Musiking will be on view in Shanghai. Curator André Chan introduces the theme What Potions Have I Drunk of Siren Tears, and presents the works of two Hong Kong artists, Alex Yiu and Cheuk Wing Nam. The artists will be present and performing live on the day of reception, September 18th, 2016. The exhibition is on view through October 16th.

The exhibition title What Potions Have I Drunk of Siren Tears originates from a sonnet in Shakespeare's Sonnets, with its Mandarin literal translation as "how much of witch siren tears have I drunk." The more prevalent saying of siren is mermaid; in Western mythologies, sirens lure sailors with their enchanting voices to shipwreck, while legends of the East tells of sirens whose tears become pearls. The curator combines mythologies of both cultures to entail the transition of sound art in a contemporary context. Since Clement Greenberg first proposed that art could attain a level of "purity" through self-expression, the creative forms of art had begun to gradually expand. Marcel Duchamp had utilized sound as his artistic form as early as 1913, creating Musical Erratum and other sound pieces. While sounds remain invisible, its image is materialized through the artist's touch. The exhibition will examine the intrinsic qualities of music and sound and present the audience with sound art as it is transformed into tangible objects.

The two exhibiting artists exemplify the most current directions of sound art in Hong Kong, as an increasing number of sound artists begin to incorporate installation and visual elements before inserting in sounds to expose its social, experimental and critical aspects. Alex Yiu's work includes various visual forms, including video, editing and animation. He combines sound collages with improvised performance to recreate images of popular music and collective memories; an unsettling ambiance is created through garbled codes, videos jammed with glitches, and noises, exhibiting the various predicaments and social chaos that Hong Kong has been through. Cheuk Wing Nam's work carries a tone of humor where rejection and contest become imperative elements in her work. Musical instruments like the cello and violin serve as the exterior basis of her installation work while cassette tapes, speakers, amplifiers, and an electronic lever are further installed to encourage the audience's desire to interact with the installation. Hidden within are micro-controller and an electronic instrument that utter irritating sounds and noises, implying an act of defiance.

Through its creators' continuous in-depth portrayals and dialectics, the realm of sound art has been broadened, reformed, and has subverted its criticism- sound art has now truly become an extension of art. A+ Contemporary aims to explore the multi-faceted nature of contemporary art with an experimental outlook. The exhibition will present the analogous relationship of space, sound, and installation as the artists lead its listeners to experience the moment as material, politics, society, history, body, and culture intersect.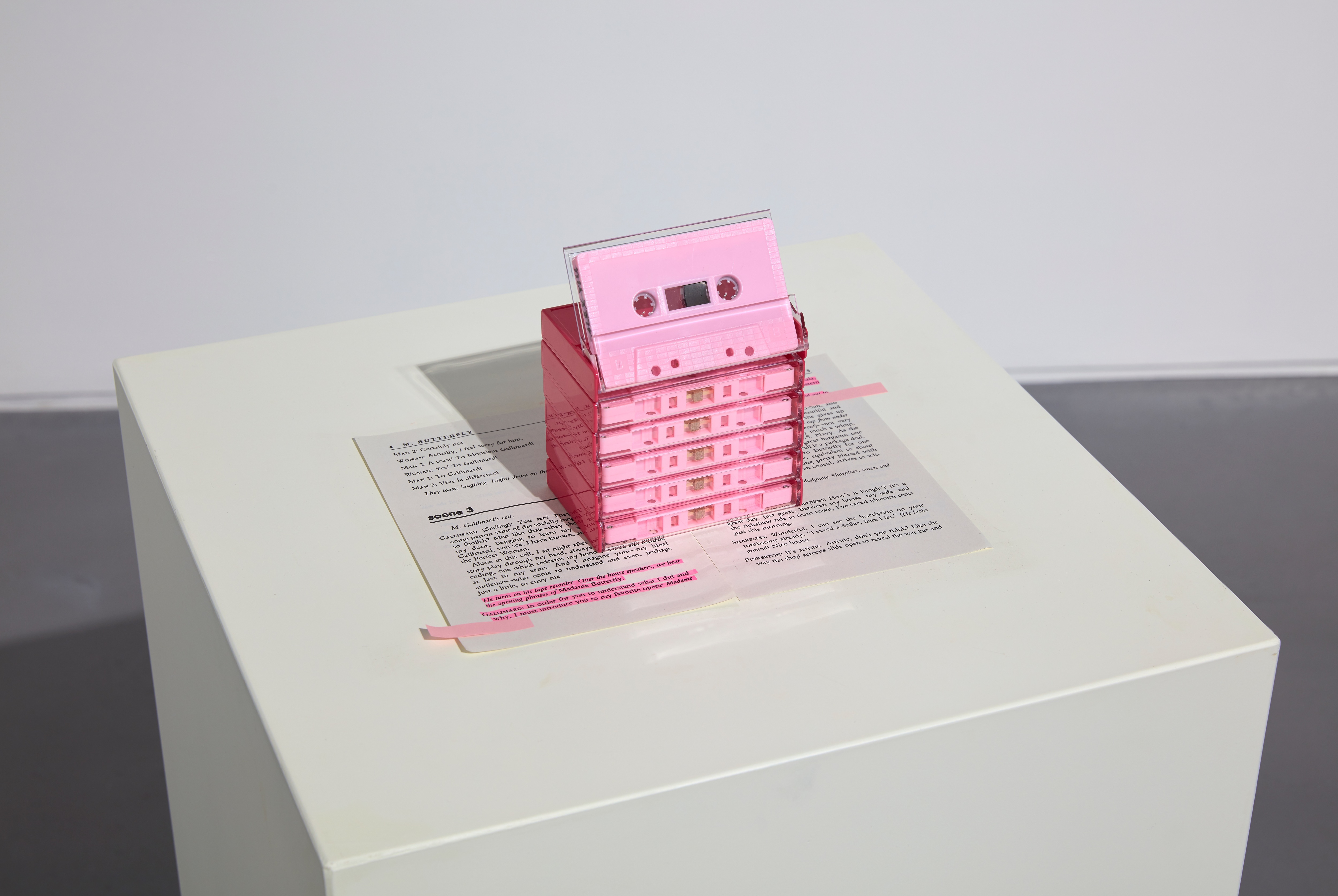 Song to Daphnis 
2016 
Book texts, photos, world map, red threads, pins, and cassette tape 
Edition-of-6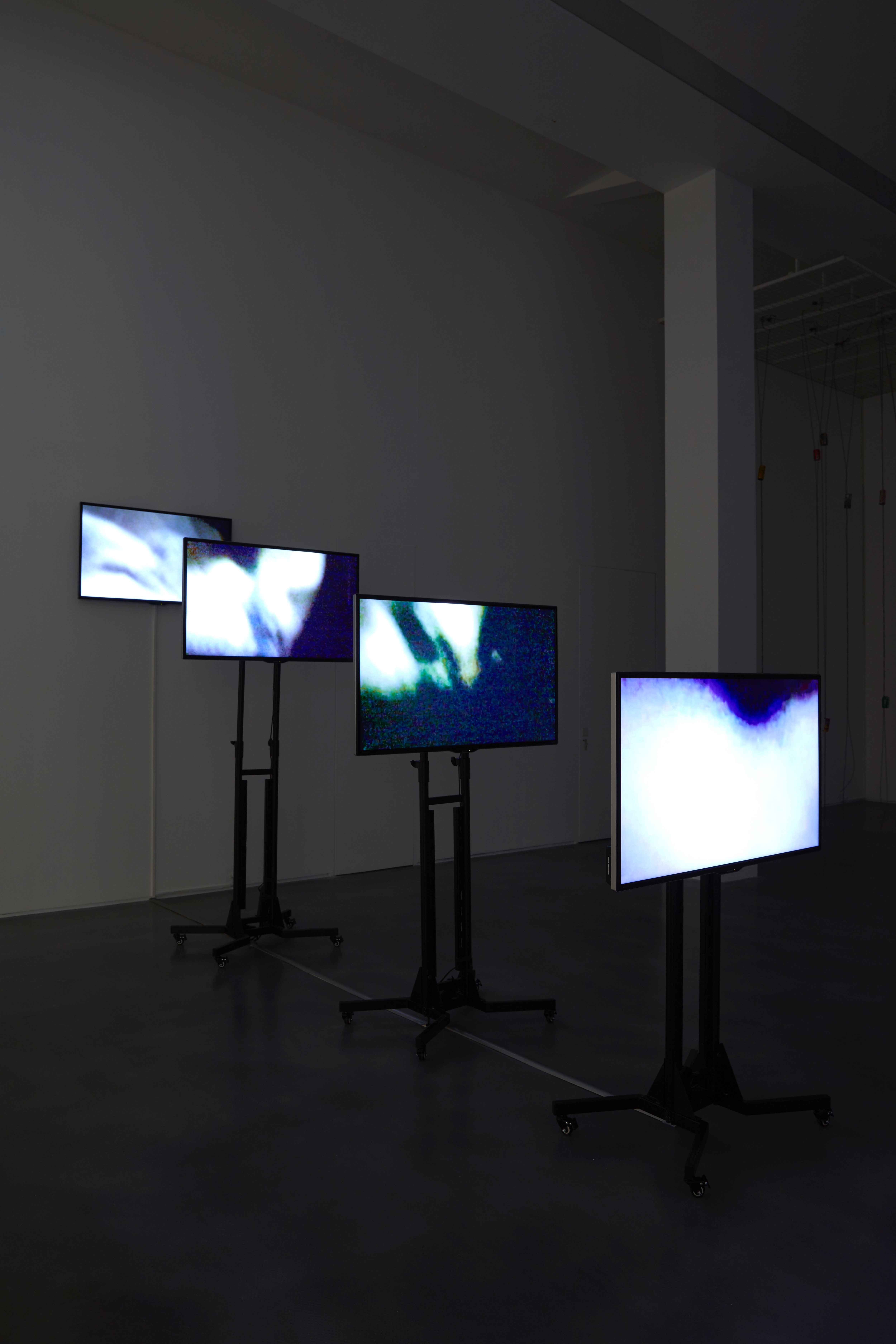 Studies 1-4 
2015 
Four channels video, color, silent 
04″00"(each) 
Edition-of-6 



Remember That Lesson about Time 
2015 
Single channel video, color, stereo sound 
06″40" 
Edition of 6 



This Is My Home 
2015 
Single channel video, color, stereo sound 
07″30″ 
Edition-of-6 
Video-still

Enquiry: A+ Contemporary, Shanghai